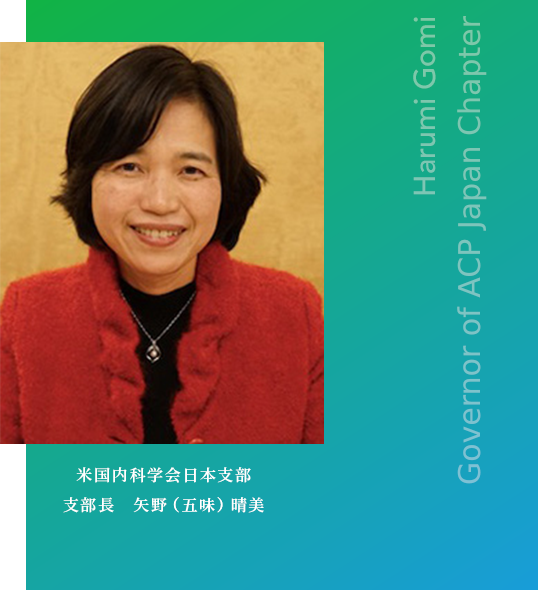 3G (Gender, Generation, Geography)を超えて
3E(Equitable, Enjoyable, Empowering)の実現へ
2023年4月29日
この度、前任の前田賢司支部長を引き継ぎ、第5代目の日本支部長に就任することとなりました、矢野(五味)晴美と申します。ポスト新型コロナウイルスの時代が幕開けし、様々な変化があることが予想されます。その中で、日本支部として、4年間の任期中に以下の3つの目標を掲げ活動したいと考えております。1つ目は、多様性の推進、2つ目は、予防医学の推進、3つ目は教育科学に基づいた卒前・卒後・生涯教育がシームレスにつながった教育の推進です。
多様性の推進において、日本支部の運営においてこれまで以上に多様性を重視し、多角的な視点を取り入れます。特にGovernor Advisory Council には、学生、研修医、早期キャリア医師、女性の方々に積極的に参加いただける体制としました。
またWell-being 2.0の時代となり、医師の健康・安寧についても組織として推進して参ります。
予防医学の推進のため、支部長直属の「予防医学推進タスクフォース」を立ち上げ、活動が開始されました。エビデンスに基づいた予防医学の推進に向け、学会として推奨事項などを臨床医の先生方に届けます。
教育科学に基づき、卒前・卒後・生涯教育が、連続性を持ちつながるように、学会として教育セッションを充実させたいと考えております。教育の一環で、国内外のACP会員のコラボレーションを促進し、英知を共有し、よりよい患者診療が実現できるように尽力します。 特に学生、初期研修医の方に総合内科のコアの部分を体験いただくための"Rising Star Scholarship Program"開始します。
国内の大きな課題である3G (Gender, Generation, Geography)の大きなギャップを乗り越えて、3E(Equitable, Enjoyable, Empowering)の組織を実現できるように尽力して参りますので、何卒よろしくお願い申し上げます。
April 29, 2023
I succeeded Governor Kenji Maeda as of April 29, 2023, and have been appointed the 5th Governor of the Japan Chapter of the American College of Physicians. The COVID-19 pandemic has almost ended, and the new post-COVID-19 era has begun. As the Governor, I have three objectives that I aim to accomplish during the next four years. First, I would like to promote more diversity in this chapter as well as within the country at large. Secondly, I would like to promote evidence-based preventive medicine, including cancer screening and adult vaccination programs. Thirdly, I would like to promote evidence-based education for health professionals which seamlessly links the undergraduate, postgraduate, and continuing professional development stages.
Allow me to explain these three objectives in more detail.
Promoting diversity
I shall be including more medical students, residents/fellows, and early-career physicians and women to the Governor Advisory Committee in order to incorporate a broader perspective with which to navigate the chapter. In addition, in the era of Well-being 2.0, we will be promoting the health and well-being of physicians from an organizational standpoint.
Promoting evidence-based preventive medicine
In order to pursue this goal, the Preventive Medicine Task Force Committee was established, and began its activities this year. This task force shall promote evidence-based preventative medicine as an academic society by delivering recommendations to clinicians.
Promoting evidence-based education to health professions
I will promote seamless evidence-based education for healthcare professionals that seamlessly link the undergraduate, postgraduate, and continuing professional development stages. As part of this education, we will promote international collaboration between ACP members in Japan and abroad in order to share wisdom and realize better patient care. Another project includes the "Rising Star Scholarship Program." This scholarship program will be launched this year to support early career residents in Internal Medicine.
We look forward to the continued support of all Members, Fellows, and Masters, as we strive to overcome the 3Gs (Gender, Generation, Geography) gap which is a major challenge in Japan, and to achieve the 3Es (Equitable, Enjoyable, and Empowering) within the organization. I truly appreciate your understanding and cooperation in advance.
Harumi Gomi, MD, MPH, FACP, FIDSA
Governor, ACP Japan Chapter