Welcome to ACP Japan Chapter Annual Meeting 2018
Dear Colleagues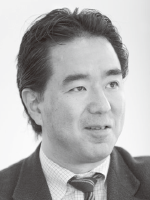 It is my great pleasure to welcome you again to the ACP (American College of Physicians) Japan Chapter Annual Meeting 2018, which will be held on June 2nd and 3rd, 2018 at Kyoto University International Innovation Center as well as Kyoto University Clock Tower Centennial Hall.
The theme of the Meeting this year is "Mind & Arts as Essentials for Internists: Beyond Evidence & Technology". Since the entrance exam to medical school in Japan is becoming more and more competitive reflecting the economic downturn in Japan, the young physicians are smarter and ambitious in getting knowledge and skills. However, since the patients' needs are not merely medical treatment or cure but also relief and comfort, sincere attitude or sympathy, compassion of doctors and medical staff to listen to their mental as well as physical sufferings. Medical school tends to teach only skills and knowledge but not professional or affective attitude or mindfulness. Japan is now facing the skyrocketing increase in elderly population, so the patients are also getting older and more frail, and guideline-oriented management is not enough to make these patients happy. So, in the plenary session of the Meeting, we would like to discuss how we can teach medical students/residents/fellows an affective aspect of medicine or "mindful" practice as well as technical part of medicine. We would have Dr. Jack Ende, who is an immediate past president of ACP you to present the medical education in USA with special attention on teaching affective aspect of medicine or mindful practice in plenary lecture before the plenary session with Japanese seasoned physicians. In addition, we will offer sessions like Dr's Dilemma (an inter-institutional Quiz tournament by teams of residents), Native English-speaking clinician educator session, the poster-discussion session, as well as the ACP update by Dr. Jack Ende. As with previous meetings, you can also enjoy many informative lectures and luncheon seminars.
Our meeting is made by volunteers from ACP Japan Chapters and does not seek support from industries, so it is the meeting of the clinicians, by the clinicians, and for the clinicians. We are confident that you will get more than a return on your participation investment for this meeting with high satisfaction and benefit.
We are very much looking forward to seeing all of you in Kyoto in its best season.
Yugo Shibagaki, MD, FACP
Chair, ACP Japan Chapter Annual Meeting 2018
---
Would you hope to join ACP, please visit URLs below.
There will be a booth set up during the Annual Meeting to introduce you to the ACP and ACP Japan Chapter.
ACPJC2018