2022年11月28日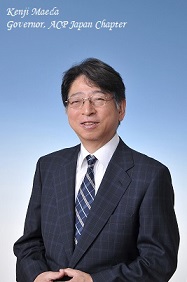 It is hard to believe that the year 2022 is almost over. My term as a governor will end at the next annual meeting, Internal Medicine 2023, which will be held in San Diego during April 27th until 29th next year. I have not been able to attend the annual meetings since 2020 because of covid-19 turmoil and the last BOG meeting in autumn this year in Savannah GA was cancelled because of the Hurricane Ian (and switched to the remote conference). That's the reason why I strongly hope to participate in the next annual meeting in San Diego. I hope many members from our chapter will attend the meeting too.
Some of the committees in our chapter are planning to hold seminars in December: a seminar concerning PMR will be hosted by Generalism-Continuing Medical Education Committee on December 13th and a seminar for residents and early carrier physicians concerning "how to make clinical questions through case studies" will be hosted by Resident Fellow Committee on December 3rd. I hope many attendees will get something to bring back home.
Finally, I want to wish all of you and your family happy, safe and peaceful Holiday Season.
Kenji Maeda, MD, FACP
Governor