2021年10月7日
Kurokawa Award (Medical Student Category) Recipient's Remarks
Eriko Kamijo, MD, St.Luke's International Hospital Junior Resident
Chiba University, 2015-2021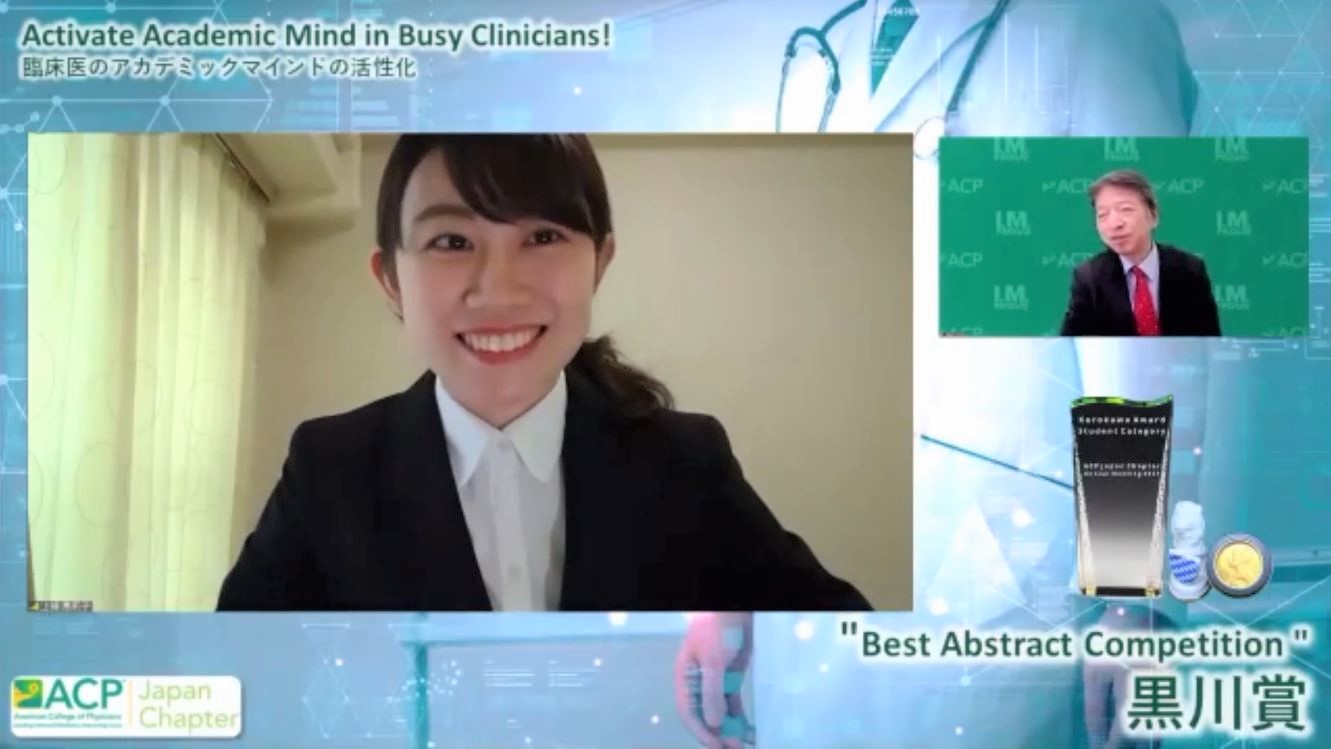 I am honored to have received the Kurokawa Award at the ACP Chapter Annual Meeting, 2021.
I reported a case of "Lower extremity edema caused by squamous cell carcinoma: physical findings and tests useful for differentiating lymphedema". Malignant tumors sometimes develop secondary lymphedema and need to be diagnosed early. I focused on the usefulness of Stemmer's sign and Indocyanine green (ICG) lymphangiography in diagnosing secondary lymphedema.
When trying to pinch the dorsal skin over the proximal phalanx of the second or third toe, Stemmer's sign is positive if the skin cannot be pinched. It is a useful physical examination to diagnose lymphedema. The sign is often used on the place we showed above, but can be used on all other toes; pinching the dorsal skin immediately proximal to the metatarsophalangeal joint can also be substituted for technical simplicity.
ICG lymphography is also useful for diagnosis. The diagnostic ability of ICG lymphography and its evaluation capability for disease severity is similar to lymphoscintigraphy which is the gold-standard examination for extremity lymphoedema but with less invasiveness and a lower cost.
In this case, the primary lesion was a black ulcer on the lower limb, causing the edema throughout the ipsilateral lower limb, and we were able to make a diagnosis through an accurate physical examination. I would like to gain my experience to find a quicker, easier, and more accurate way to diagnose edema and other conditions that I encounter in my daily practice.
This was my first time to present a case report, and I stumbled over a lot how to summarize and convey the information. However, I realized that by looking back on each case from an academic perspective, it became an opportunity to learn deeply and connect it to my next medical examination.
I would like to take this opportunity to thank the teachers of the Department of General Medicine, Chiba University, who have given me great guidance since my clinical training. I would also like to express my gratitude to all those involved in the Japanese Section Meeting of the American Society of Internal Medicine for giving me the opportunity to make a presentation.