2022年5月30日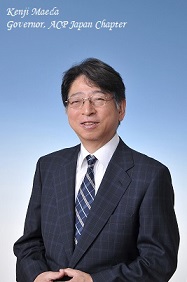 Greetings to the all the Chapter members!
It was unfortunate that we couldn't attend the ACP 2022 Annual Meeting in Chicago (IMM 2022) at the end of April due to the Covid-19 restrictions. But you should find good things in a bad situation – as it was held in a hybrid style, we could see some of the lectures online, although time difference was a limiting factor. Many sessions were recorded and are available for several months after the meeting so that you can watch some of them later.
The 2023 ACP Annual Meeting will be held at the end of April 2023 in San Diego. I hope that next year there will be many physicians from Japan at the meeting. Start planning now!
Let's talk about our Chapter's Scientific Meeting 2022. It will be held completely online on Saturday 25th and Sunday 26th this month. Some of the sessions will be distributed on-demand to the participants during some period after the meeting so that you can view sessions you missed.
With Covid-19 still a present threat to our health and well-being, please remember to take care of yourselves and take time to treasure those who are most dear in your lives.
All the best,
Kenji Maeda