2023年10月5日
Special Award (Medical Student ) Recipient's Remarks
Ryuto Ohashi
International University of Health and Welfare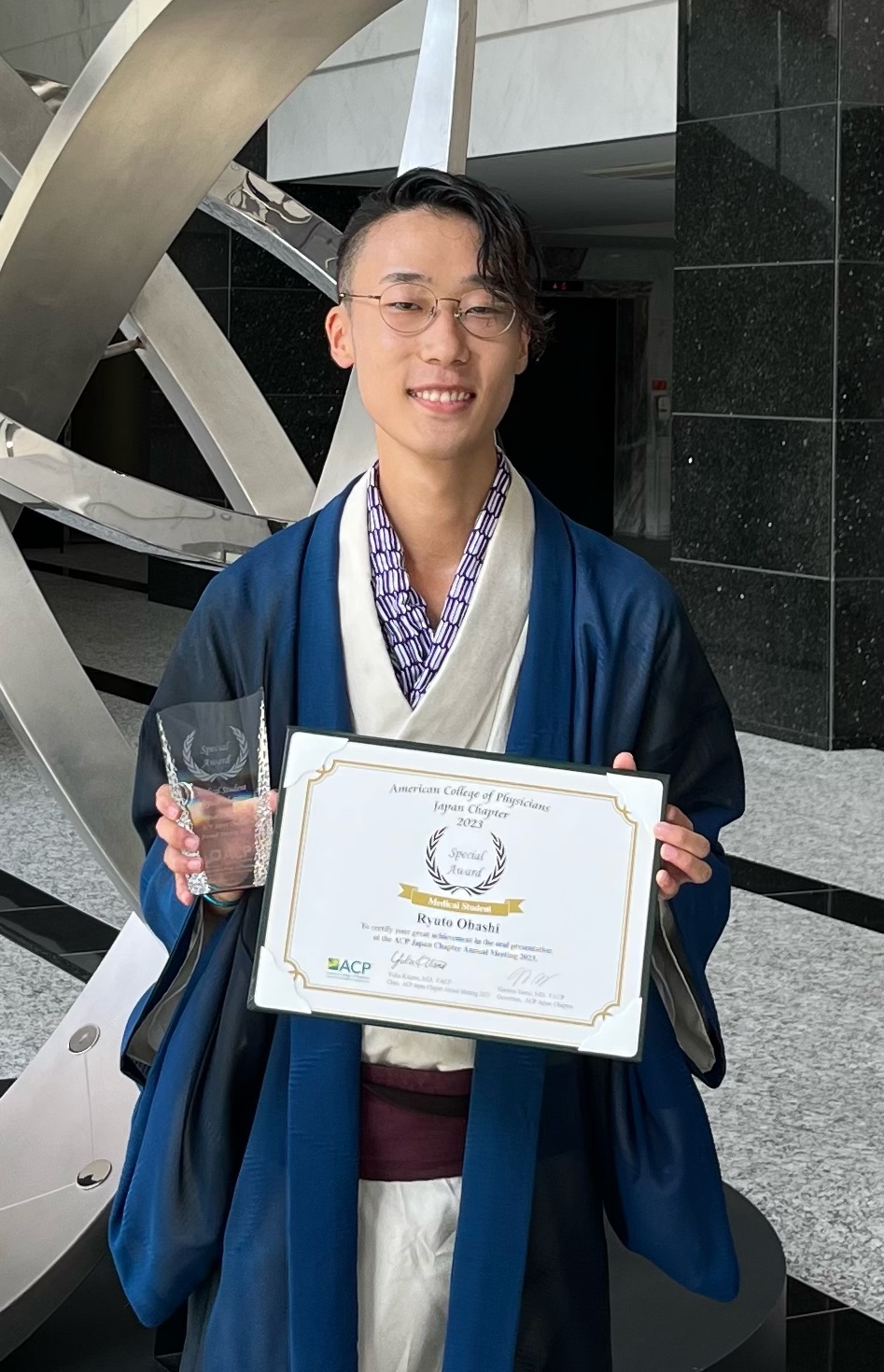 I am deeply honored to have received the Special Award for Medical Student at the ACP Japan Chapter 2023 Annual Meeting. Under the title of "Successful Preventive Strategies for COVID-19 at the Interactive Festival in Shibuya, Tokyo.", I presented the infection control measures implemented at the interactive festival called "Shibuya Zunchaka!" held on September 3-4, 2022, in Shibuya, Tokyo as the case report.
During that time, amidst the seventh wave of COVID-19, the Emergency Statement was declared in Tokyo, leading to the cancellation of numerous cultural events including music festivals. However, by assuming that meticulous evidence-based preventive measures would enable the safe conduct of interactive events, we executed the event. As a result, despite the attendance of 20,000 individuals, we successfully avoided any new infections during and after the event.
Nevertheless, I acknowledge that this case report might not yield immediate impact. This is due to the rarity of a pandemic as significant as COVID-19, which occurs only once every century. Thus, the true purpose of this case report lies in serving as a precedent, demonstrating that "with proper infection control measures, interactive events can be held" even in the event in another pandemic outbreak. This precedent can assist event organizers and contribute for some extent.
Although I initially did not consider presenting the case report until several months after the event had concluded, as our studies progressed, I came to recognize the value of sharing the infection control measures we implemented from a public health perspective. Furthermore, being my first presentation at an academic conference and given that it was entirely in English, I experienced nervousness and could not deliver the presentation as smoothly as rehearsed, even in the online format. Nevertheless, the precise advice and pertinent questions from the attending doctors were greatly stimulating. I also had listened to presentations from other doctors, and I was deeply impressed by the breadth and depth of their medical knowledge and presentation skills, motivating me to strive for improvement.
Lastly, I would like to express my heartfelt gratitude to the volunteer team of "Shibuya Zunchaka!" for their involvement in implementing infection control measures, to the audience who cooperated with the measures on the day, and to Prof. Harumi Yano and Prof. Takayuki Oshimi from International University of Health and Welfare School of Medicine, who provided extensive guidance for my presentation. I extend my sincere thanks to the organizers of the ACP Japan Chapter 2023 Annual Meeting for providing me with the opportunity to present.